Product
Features
The Artisan Quilter offers you plenty of storage and workspace for all your quilting needs.
Stores 100 spools of thread, up to Mini-King size, on steel pegs. Four shelves tilt down for easy access to the back row of spools
3 Spacious Soft-closing drawers
Right and Left Palettes attach to bi-fold doors
Rounded Corners and Beveled Edges
Storage compartment with adjustable shelves
Easy-roll, lockable casters
XL Lift included. The powerful XL Lift comes with a standard wireless remote. A direct drive rack and pinion system smoothly raises and lowers large, heavy top-of-the-line machines. Work at high speeds without platform vibration.
Dimensions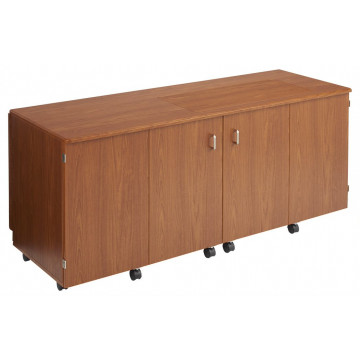 Cabinet Closed
70" W x 24 5/8" D x 29 1/4" H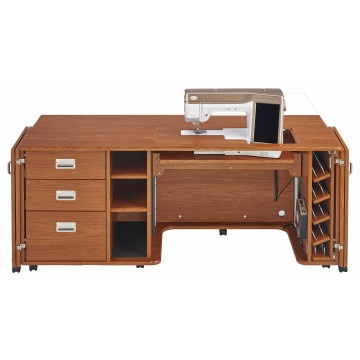 Cabinet Opened (doors folded flat)
76" W x 24 5/8" D x 29 1/4" H
Outback Leaf Extension
The Outback Leaf adds 23-3/4" of work surface space to the top of the studio.