Product
Features
The SewMate provides everything you need for the most efficient sewing area no matter how big or small. This gorgeous studio perfectly complements your home as well as the capabilities of your machine. Enjoy spacious shelves, fabric and notions palettes and three soft-closing drawers.
Choose from five elegant finishes. Each studio or companion model is as stunning as it is durable. Finished with a thick vinyl veneer that is scratch resistant, water-resistant and easy to clean. Choose the color that best complements your home décor, style and creativity.
XL Lift included. The powerful XL Lift comes with a standard wireless remote. A direct drive rack and pinion system smoothly raises and lowers large, heavy top-of-the-line machines. Work at high speeds without platform vibration.
3 Spacious Soft-closing drawers
Right and Left Palettes attach to bi-fold doors
Rounded Corners and Beveled Edges
Easy-roll, lockable casters
Dimensions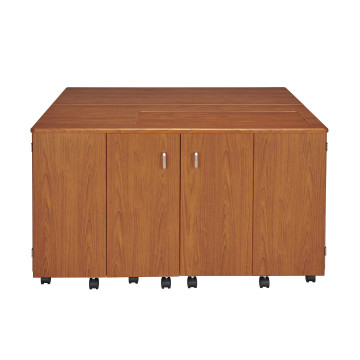 Cabinet Closed
53" W x 24 5/8" D x 29 1/4" H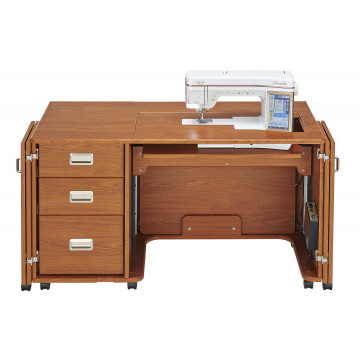 Cabinet Opened (doors folded flat)
59" W x 24 5/8" D x 29 1/4" H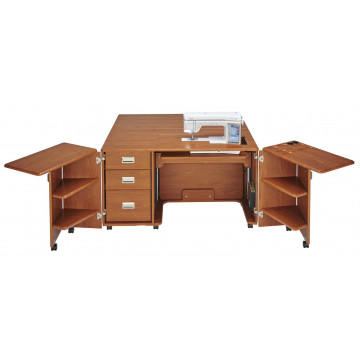 Outback Leaf Extension
The Outback Leaf adds 23-3/4" of work surface space to the top of the studio.
Important COVID-19 Update
If you placed your order through a Koala Retailer, please contact them for any information regarding order or shipping status.
If you placed your order online, please contact koala@tacony.com for order or shipping updates. Include the customer name and order number and we will get back to you within 48 hours.