Product
Features
Slimline Artisan Embroidery is the ultimate space-saving studio. Ideal for top-of-the-line sewing and embroidery machines and distinctively designed for all your project needs.
Choose from five elegant finishes. Each studio or companion model is as stunning as it is durable. Finished with a thick vinyl veneer that is scratch resistant, water-resistant and easy to clean. Choose the color that best complements your home décor, style and creativity.
Stores 100 spools of thread, up to Mini-King size, on steel pegs. Four shelves tilt down for easy access to the back row of spools
XL Lift included. The powerful XL Lift comes with a standard wireless remote. A direct drive rack and pinion system smoothly raises and lowers large, heavy top-of-the-line machines. Work at high speeds without platform vibration.
Right and Left Palettes attach to bi-fold doors
Rounded Corners and Beveled Edges
Easy-roll, lockable casters
A Glide-Out Embroidery Module and Hoop Closet easily holds your hoops and embroidery module. It conveniently keeps it out of the way while you work and puts them within reach in seconds.
Dimensions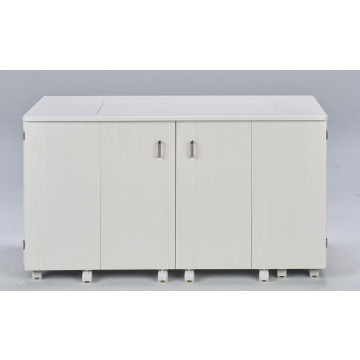 Cabinet Closed
53" W x 24 5/8" D x 29 1/4" H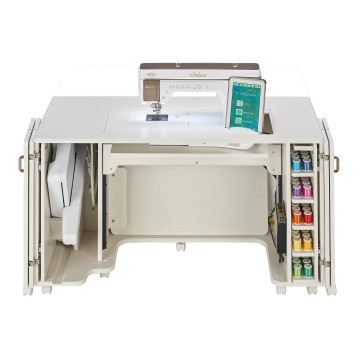 Cabinet Opened (doors folded flat)
56" W x 24 5/8" D x 29 1/4" H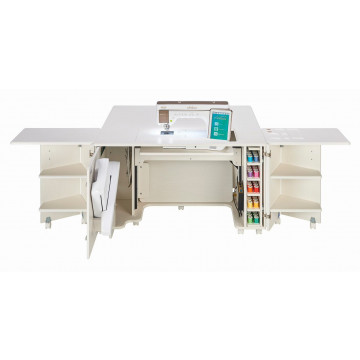 Outback Leaf Extension
The Outback Leaf adds 23-3/4" of work surface space to the top of the studio.
Important COVID-19 Update
Our Chicago facility is open and fully functional. We have safety and cleaning measures in place to protect our associates and customers. Thank you for the orders placed during our COVID-19 closure, and for your patience and understanding as we catch up.
For information on the status of your order, please call (877)496-8060.