Customize
All Koala Studios are built to order, specifically for you and your sewing needs. Simply select your base model, color, height, add-ons and accessories when you place your order.
Choose Your Base model
Koala offers three product lines. The Artisan line provides features that are unique as the machine it supports. The Heritage line fits perfectly for most sewing rooms and most machines. The Station line offers a simpler design that doesn't compromise on quality.
Select a Height
Koala understands that the perfect studio height is a personal choice. Height modifications are available in 3" increments with a maximum total increase of 6" * (See exceptions below.) When ordering 32-1/4" height, the adjustable foot control platform must be requested.
Choose Your Custom Features and Accessories
Custom machine inserts can be made to your machine's make and model in the exact finish as your Koala Studio. Add a matching SewComfort Chair for hours of sewing comfort or a RollAbout storage chest for even more storage and workspace.
Built to Order
A Koala representative will contact you to confirm and move your order into production.Your custom studio will then be assembled in our West Chicago factory with the best materials and utmost care by our American Craftsmen. Most Koala Studios are built and shipped within around 12 weeks.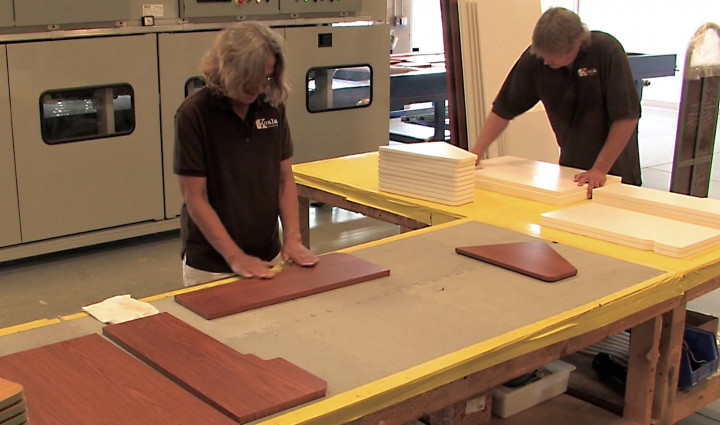 Delivery Your Way
Delivery Your Way
Koala Studios offers three delivery options. When ordering through a Koala Retailer, you may choose from Outside Front Door delivery, Room of Choice delivery, or our most inclusive service, Top Drawer Delivery Plus. Learn more about Koala Studios Delivery Options. Orders placed at koalacabinets.com may be delivered via Outside Front Door delivery or Room of Choice Delivery.